You can choose the following amount to Top-up: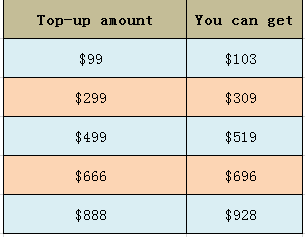 Top-up rules:
1、The same denomination can only be topped up once a month, and the amount returned can only be used for shopping in this website.
2、The amount of the recharge gift is valid for one year, and we will freeze for more than one year;
3、In the event of a refund or return, a refund will be made to the recharge card and you can continue to use it;
4、Scope of application: purchase of all products in the mall.
5、If cheating, batch registration, malicious buying to cash out, false trading and other situations are found in the process of recharge or use, the recharge or continued use qualification of the offending member will be cancelled.